TV Shows to Motivate and Relax You While Job Searching
Last week we listed movies to watch while job hunting. Today, we're doing TV shows. It can be nice to have a good show playing in the background while you're submitting resumes. When you got rejected or had a bad interview, watching a good show can take some weight off. I usually binge watch Honest Trailers or CinemaSins on YouTube. Nothing like a good laugh. Don't let the shows distract you, though.
When you're sitting at home most of the day, it's easy to let the internet sidetrack you. Reward or relax yourself after an interview with a lazy afternoon watching your favorite TV show.
House of Cards 
U.S. Rep. Francis Underwood of South Carolina starts out as a ruthless politician seeking revenge in this Netflix original production. Promised the post of Secretary of State in exchange for his support, his efforts help to ensure the election of Garrett Walker to the presidency. But Walker changes his mind before the inauguration, telling Underwood he's too valuable in Congress. Outwardly, Underwood accepts his marching orders, but secretly he and his wife, an environmental activist, make a pact to destroy Walker and his allies. Based on the U.K. miniseries of the same name, the U.S. version offers a look behind the scenes at the greed and corruption in American politics. A number of real-life media figures make cameo appearances.
Unbreakable Kimmy Schmidt

Rescued after 15 years in a cult, Kimmy Schmidt decides to reclaim her life by venturing to New York, where she experiences everyday life with wide-eyed enthusiasm. On a whim, she rents a room from Titus, a gay wannabe Broadway actor, who makes ends meet as a street performer in Times Square. The unlikely pair find they're well-suited to help each other out, with Titus reintroducing Kimmy to modern life, and her providing him with the inspiration that you should never give up. Together they'll make it through whatever life throws at them
IT Crowd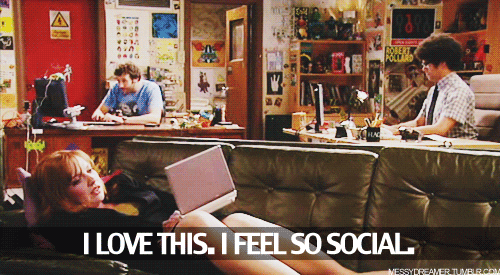 A three-person IT group keeps its company running with minimal effort or social contact.
2 Broke Girls
Street-wise Max doesn't expect much from the new waitress at her night job, a rich girl who has reluctantly joined the food service industry after a string of bad luck. But to her surprise, Caroline is a woman of substance and just may be her ticket to success. The two strike up an unlikely friendship after Caroline discovers that Max can bake a mean cupcake, and the women decide if they can just wrangle up the start-up cash, they may have found their big break. Their co-workers at the diner are boss Han Lee, cook Oleg and cashier Earl.
Parks and Recreation
Leslie Knope, a mid-level bureaucrat in an Indiana Parks and Recreation Department, hopes to beautify her town (and boost her own career) by helping local nurse Ann Perkins turn an abandoned construction site into a community park, but what should be a fairly simple project is stymied at every turn by oafish bureaucrats, selfish neighbors, governmental red tape and a myriad of other challenges. Leslie's colleague Tom Haverford, who delights in exploiting his position for personal gain, is as likely to undermine her efforts as to help her, while her boss, Ron Swanson, is adamantly opposed to government in any form, even though he's a bureaucrat himself.
Brooklyn Nine-Nine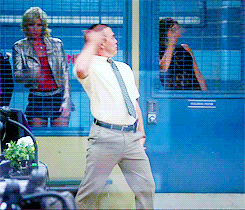 Detective Jake Peralta, a talented and carefree cop with the best arrest record, has never had to follow the rules too closely or work very hard. That changes when Ray Holt, a man with a lot to prove, becomes the new commanding officer of Brooklyn's 99th precinct. As Holt reminds Peralta to respect the badge, an extremely competitive colleague — Detective Amy Santiago — starts to close in on the hotshot cop's arrest record. Other members of the precinct include Sgt. Terry Jeffords, a devoted family man, Detective Charles Boyle, a hard worker who idolizes Jake, and Rosa Diaz, a sexy-yet-intimidating detective. Civilian office manager Gina Linetti is tasked with cleaning up everyone's mess, while somehow getting involved in everyone's business.
What's you're favorite TV show about working…or not working?